In all that we do, SK strives to elevate the positive contributions we make to benefit our communities, employees, partners, and stakeholders.

SK's companies prioritize our collective impact by leveraging our resources and expertise to address social issues, improve business ethics, and protect fundamental human rights.
Building a more equitable and prosperous future begins with SK's people. Each company is active in prioritizing employee health, safety, and well-being. SK further instills its workplace culture with values of fairness, mutual respect, integrity, and trust.
In an increasingly connected world, it is equally incumbent upon SK to advance a more sustainable supply chain that aligns with ESG (Environmental, Social, and Governance) principles. SK companies put guidelines in place to support our business partners from the perspective of mutual growth, not just mutual survival.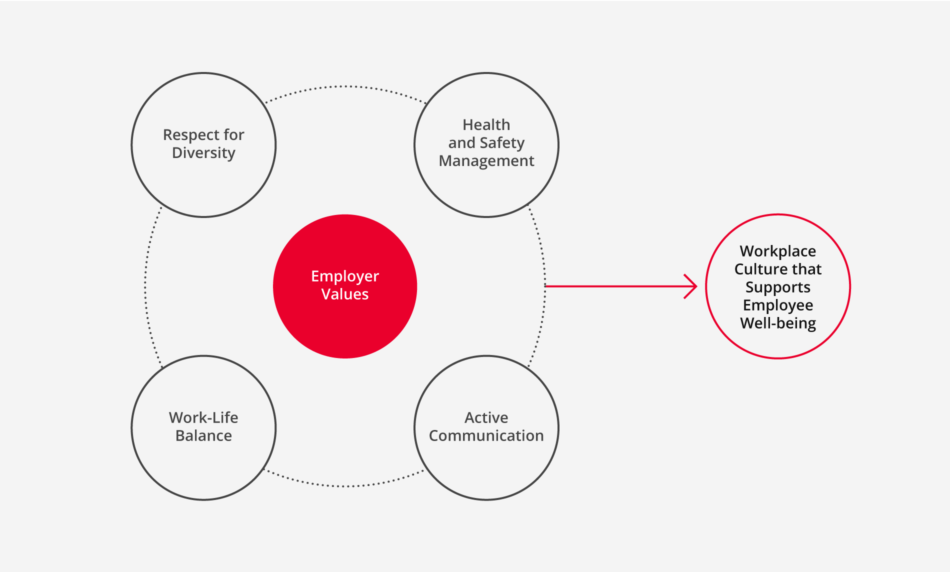 In the global fight against climate change, SK is urgently committed to building the industries that will define a better future. From clean energy to life sciences and technology, these industries will not only help protect our planet, but will also create employment opportunities with a path towards long-term prosperity for local communities.
SK is proud to become a member of the communities where we do business. We honor that privilege by providing support during times of crisis, contributing meaningful charitable donations, and acting as responsible environmental stewards.
By uplifting the lives of individuals, we can build more prosperous communities that create a better society for all to enjoy.

At SK, we believe that the only guarantee of sustainable growth is to continually invest in the strength and diversity of our people. By cultivating a supportive culture for our employees, SK aims to provide an environment centered on values of mutual trust, teamwork, and well-being.
Our employees are the heart of our business. We work to instill the values necessary for us to grow together, emphasizing mutual respect, employment security, and opportunities for advancement. These values act as the foundation of our culture, and are further underscored by SK's global code of conduct and guidelines for labor and human rights, which are followed by all of our companies.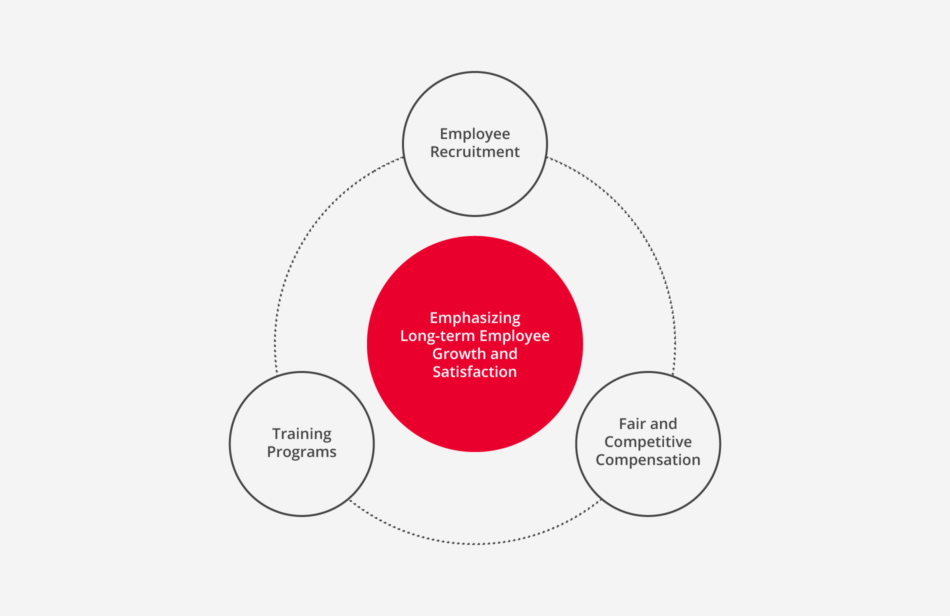 Each SK company encourages integrity, fairness, and creativity, so our people feel empowered to express their unique and individual perspectives. To achieve this, SK is dedicated to elevating a culture of respect that actively discourages, and expunges, any prejudicial or discriminatory behavior.
As SK expands globally, we are committed to helping employees reach new heights and achieve more in their careers. This is only possible in work environments where diversity and human rights are not only respected, but reinforced as a top priority.
By prioritizing the well-being of SK's employees, we believe we can create an environment where people can feel empowered to perform at the highest level.
Wherever SK does business, we pledge to implement and refine policies and protocols that support our employees throughout every stage of their careers — from initial recruitment and onboarding to skill development and promotion. By fostering the diverse talents of teams with unique skill sets, we can better adapt to external factors and realize our individual and collective potential.
Each SK company establishes workplace environments that sustain the industry's highest health and safety management practices, surpassing standards set by legal and compliance systems.
The talent, dedication, and passion of our employees is what drives sustainable economic growth for SK. Through our shared success, it becomes possible for SK to invest in social value to protect and strengthen the communities where we live and work.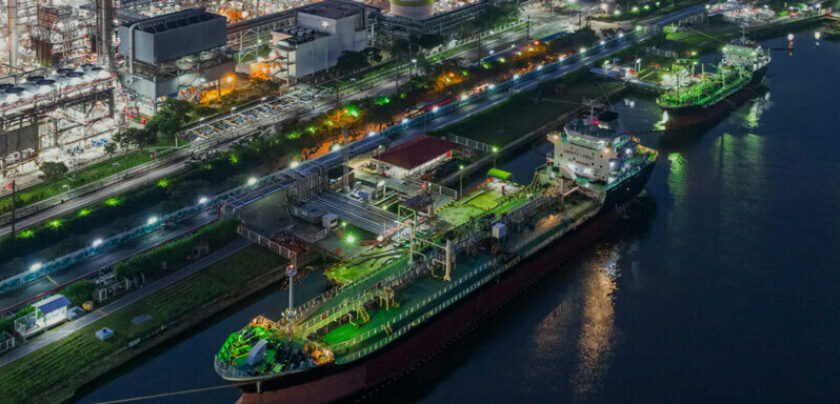 As part of our company-wide commitment to ESG, SK works to create a more sustainable supply chain that aligns with environmentally friendly values and practices. Not only is this work critical in the fight against climate change, but it empowers SK to grow in closer alignment with our partners.
At SK, we deeply value our partner relationships. We strive to build a sustainable supply chain by working together to:
Encourage voluntary participation in incentive programs
Provide support in complying with global laws and standards
Share established guidelines to help partners align with ESG principles
Provide access to digital tools that enable SK companies to improve ESG performance across the supply chain
Collaborate with our partners' codes of conduct to evaluate and strengthen safety management systems, initiatives for reducing greenhouse gas emissions, and efforts that promote human rights, labor, and diversity
As a global leader in numerous industries and markets, SK also supports upscaling the technological capabilities of our business partners. In the U.S. and around the world, SK provides assistance through patent sharing, funding technological improvements, and offering opportunities for joint development.
Workforce development is just as critical as a company's technology, as we collaborate on building the industries of the future. SK invests in training and educational programs that strengthen the technical expertise of our partners' employees. By working together to advance ESG principles in our businesses, SK and our partners are dedicated to building a more sustainable and prosperous tomorrow.
In the U.S. and around the world, SK is committed to lifting up local economies, investing in social value, and becoming a trusted member of the communities in which we live and work.
SK Services and Products Create Social Value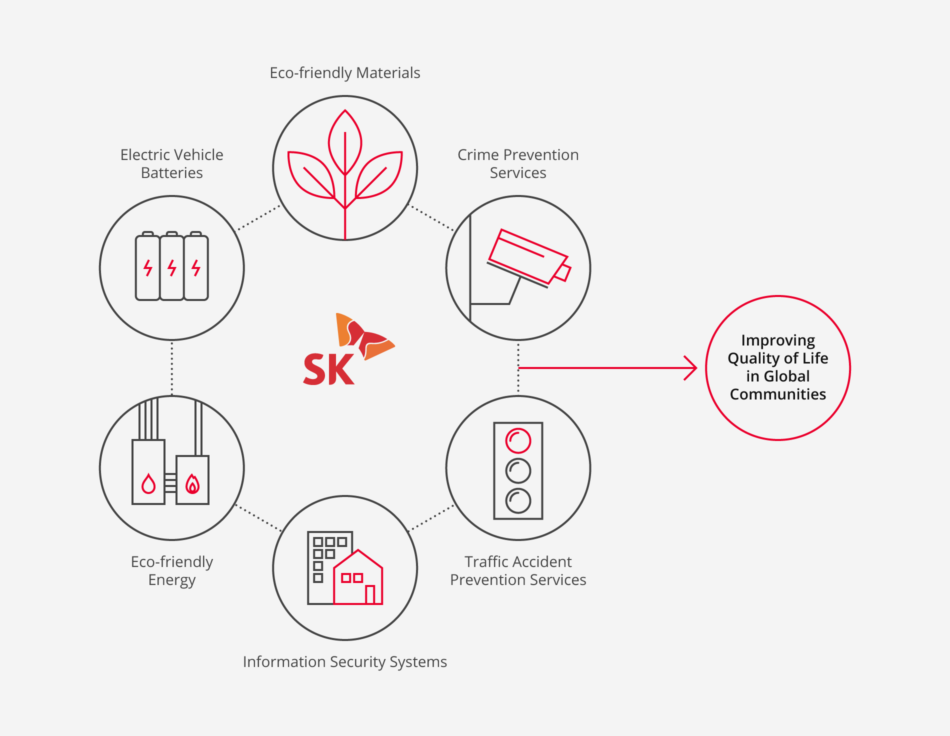 SK's efforts in the global fight against climate change are at the forefront of these endeavors. SK is accelerating ESG values that align corporate growth with the long-term health of our shared planet. Each of SK's companies — from clean energy to life sciences and technology — are emphasizing sustainable solutions to lower carbon emissions and preserve our natural environments.

During times of crisis, social safety nets are put to the test. SK proactively strengthens the communities where our employees live and work, so we are better equipped to face challenges from natural disasters, illnesses, and other external forces.
SK is dedicated to supporting the most vulnerable groups globally through charitable contributions, and by developing innovative technologies and services that can improve quality of life. In an increasingly connected and digital world, SK also strengthens cybersecurity protocols that protect private customer data from unauthorized use.
A strong sense of community and shared prosperity helps define who we are, and raise the bar for what we can achieve collectively. Together with our local partners, SK is committed to building vital communities that are prosperous, healthy, and better for all.